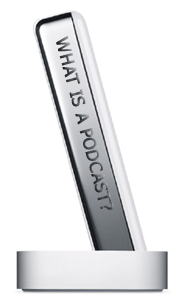 Podcast: Think of it like an internet radio show that you download to your computer. Episodes come in MP3 format which can be played on any MP3 player. The biggest misconception is that you need to have an iPod in order to listen. This is false. In fact, you don't need to have an MP3 player at all. Many people listen to podcasts from their computers.
Podcasting is a relatively new phenomenon that first appeared in late 2004. When Apple added podcast functionality to it's software in July 2005 the popularity of this format soared. Audiences tripled. However, along with mainstream attention came mainstream media. Radio stations, Film companies, celebrities, politicians are all jumping on the podcast bandwagon. iTunes is promoting commercial podcasts heavily and some "indie" podcasters who were with it from the beginning are wondering if they will be squeezed out. Only time will tell.
SOME PODCASTS TO CHECK OUT! Here are a couple podcasts that I highly recommend and listen to.