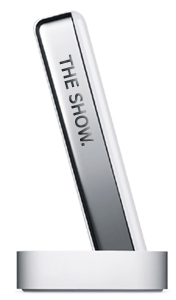 There are now 4 easy options to get the show! Note: These are LARGE files approx 20-24 MB each so you will likely need a high speed connection to download them.

DO YOU HAVE iTUNES? My Marilyn is now available in the iTunes Music Store! iTunes is a free download and you don't need to have an iPod. Just click on button below to subscribe with just 1-click!

LISTEN to the podcast online right now using the Marilyn Podcast Player. No downloading required, this is a great option if you are at work! Just click the player button.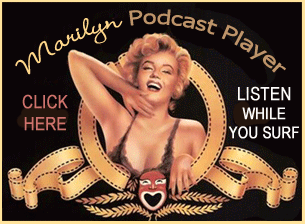 PODCATCHERS
Podcatchers are software programs that you download to your computer (like iTunes) and use them to subscribe to and listen to your favourites podcasts. I recommend Juice but there are lots of others to choose from as well.

Just download the program and copy and paste the following RSS feed into the software to subscribe http://feeds.feedburner.com/MyMarilynPodcast


DOWNLOAD the show directly to your desktop by clicking on the MP3 link after each episode in the Show Notes.

I would really appreciate EVERYONE who is able to use iTunes (both Mac and PC users) to please download and subscribe to My Marilyn using it. iTunes has a top 100 list that is based on subscriptions. Let's get My Marilyn on that list!! I would like all of my listeners to be counted in iTunes. A subscription means that new episodes will be automatically downloaded to iTunes when they are posted. iTunes is so easy to use! Try it out today by visiting the Apple website.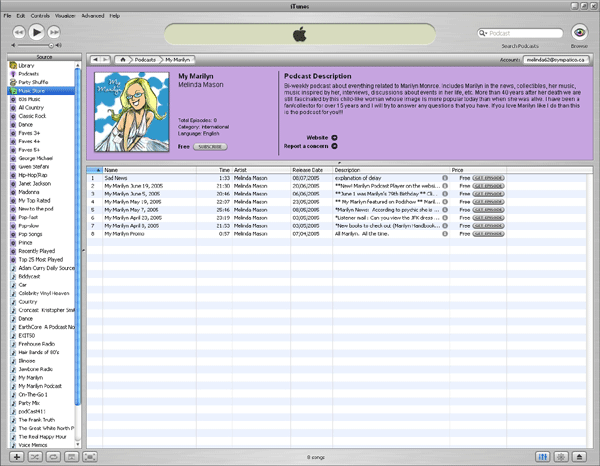 (actual screen shot of the My Marilyn page in the iTunes music store)