YEAR: 1954

STUDIO: 20th Century Fox

RUNNING TIME: 117 minutes

MARILYN MINUTES: starring

Available on DVD
---
An all-star cast sparks this tuneful Irving Berlin musical that depicts the trials and triumphs of a veteran vaudeville family. Molly (Ethel Merman) and Terry (Dan Dailey) Donahue start out as a duo and keep adding kids to the act until they finally become The Five Donahues. Their busy, sometimes tumultuous lives aren't always easy, but the Donahues have plenty of love to get them through the hard times and more than enough talent to keep them on top. Highlighted by one classic Irving Berlin song after another and an array of dazzling production numbers, this upbeat, utterly delightful tale of life on the stage proves beyond a doubt that there's no business like show business.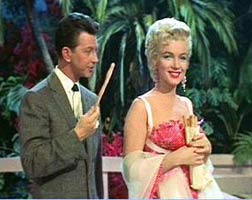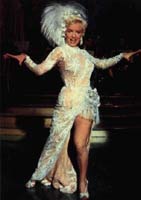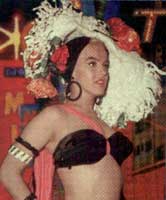 My opinion: The storyline of this movie is really dull. However, Marilyn's musical numbers make it a MUST have for any collector. The heatwave number is my absolute favourite! She is unbelievable! The costumes are also dazzling. But like I said the story is pretty lame and I usually just fast forward to Marilyn's songs.

Review: Variety
"Miss Monroe's treatment of her vocal must be seen to be appreciated. It's not going to chase 'em away from the box office, on the other hand, as a song salesgirl, per se, she'll never worry Miss Merman. She's more competitive to Mae West in her delineations."