YEAR: 1957

STUDIO: Warner Brothers

RUNNING TIME: 117 minutes

MARILYN MINUTES: Starring

Available on DVD
---
When a dazzling American showgirl captures the monocled eye of a debonair European prince, it's clear proof that opposites attract. And who could be more attractive opposites than luminous movie legend Marilyn Monroe and England's incomparably gifted actor Lawerence Olivier. He's His Highness Grand Duke Charles, Regent of the Balkan state of Carpathia, an arrogant stuffed shirt who comes to London for the 1911 coronation of King George V. She's Elsie Marina of Milwaukee, short on the social graces but long on common sense, who's come to London on a 3rd-blonde-from-the-left Gaiety Girl. Beset by political woes portending the coming war in Europe, Charles seeks escape in a short-term dalliance with the tantalizing Elsie. Elsie is also interested in affairs - affairs of state. And when it comes to a showdown between Yankee ingenuity and the Balkan bigwigs out to topple Charles, guess who wins?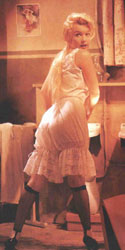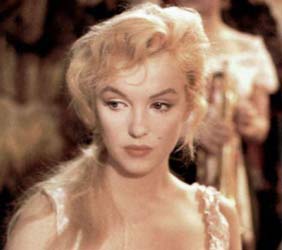 My opinion: I like this movie. Marilyn looks lovely and out shines Sir Lawerence in every scene. The elaborate costumes are beautiful (although Marilyn pretty much wears the same dress through the whole movie). There is one rather drawn out scene at the coronation but other than that it is good.

Review: The Los Angeles Times
" This, I am sure, is Miss Monroe's best cinema effort. Under Olivier's direction, she reveals a real sense of comedy. Miss Monroe also proves that she can command attention now by other means then her famous hip-swinging walk."