YEAR: 1961

STUDIO: United Artists

RUNNING TIME: 124 minutes

MARILYN MINUTES: Starring

Available on DVD
---
"I think your the saddest girl I ever meet," - Gay
"That's funny, I'm usually told how happy I am." - Rosyln
Divorced and disillusioned, Roslyn Tabor (Marilyn Monroe) befriends a group of "misfits" including an aging cowboy (Clark Gable), a heart broken mechanic (Eli Wallach) and a worn-out rodeo rider (Montgomery Clift). Through their live-for-the-moment lifestyle, Roslyn experiences her first taste of freedom, exhilaration and passion. But when her innocent idealism clashes with their hard-edged practicality, Roslyn must risk losing their friendship...and the only true love she's ever known.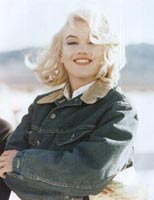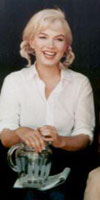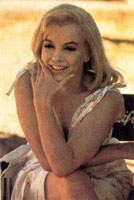 My opinion: This was the last movie that both Gable and Monroe appeared in. It was written for Marilyn by her husband, Arthur Miller. I really like it. Perhaps it has more to do with the luminosity of Marilyn than the story itself. It is definitely a different character for Marilyn and she does a great job on this dramatic role. Being Marilyn's final movie I think it is a MUST for any collection and it is a film that leaves you wondering what she would have accomplished had she lived.

Review: The Hollywood Reporter
" Miss Monroe has seldom looked worse; the camera is unfailingly unflattering. But there is a delicacy about her playing, and a tenderness that is affecting."

New York Daily News
" Gable has never done anything better on screen, nor has Miss Monroe. Gable's acting is vibrant and lusty, hers true to the character as written my Miller."