YEAR: 1953

STUDIO: 20th Century Fox

RUNNING TIME: 95 minutes

MARILYN MINUTES: Starring

Available on DVD
---
"Men aren't attentive to girls who wear glasses," - Marilyn as Pola

Marilyn delivers one of her finest comedic performances of her career in this outrageously funny film co-starring Betty Grable and Lauren Bacall! Three beautiful models plan to snag rich husbands by pooling their funds and renting a posh Manhattan penthouse in which to lure their victims. What follows is a series of near-martial mishaps where love prevails over money, proving that even gold diggers sometimes have hearts of gold!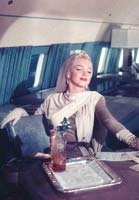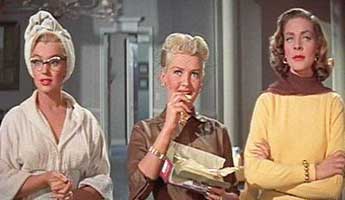 My Opinion: This is a great Marilyn film and a must have on DVD. Up until now this film was only available full screen but now thanks to DVD we get to enjoy it in widescreen. This is important for this movie since it was the first film ever shot in cinemascope (wide angle). Previously, Marilyn was cut out of many scenes but now you can see her acting her heart out even when she isn't speaking! This is a very cute movie and Marilyn is funny as a near-sighted beauty. I highly recommend it.
Reviews: New York Herald Tribune
"The big question, 'How does Marilyn Monroe look stretched across a broad screen?' is easily answered. If you insisted on sitting in the front row, you would probably feel as though you were being smothered in baked Alaska. Her stint as a deadpan comedienne is as nifty as her looks. Playing a near-sighted charmer who won't wear glasses when men are around, she bumps into the furniture and reads books upside down with a limpid guile that nearly melts the screen."