YEAR: 1955

STUDIO: 20th Century Fox

RUNNING TIME: 105 minutes

MARILYN MINUTES: Starring

Available on DVD
---
"Can't you feel the breeze from the subway? Isn't it delicious?" - Marilyn as The Girl
It's a steamy summer in NYC and this scandalous, sexy comedy heats things up even more! A married man (Tom Ewell), whose wife and son are away for the summer, has his fidelity put to the test when a seductive starlet (Marilyn Monroe) moves in upstairs. Keeping his marriage vows in the face of her flirtations proves tough when challenged by the notorious "seven year itch". Faced with this provocative problem, he's the victim to an outrageous mating dance filled with hilarious comedy.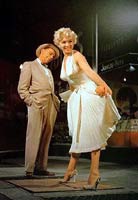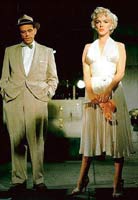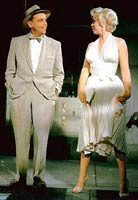 My opinion: This is a MUST have. Marilyn is absolutely perfect in the role as "the girl". Of course, this movie contains the scene most associated with Marilyn, the white dress blowing up over the subway grating. It is a funny movie and you won't be disappointed. The Seven Year Itch was ranked at No. 51 of the 100 funniest movies of all time by AFI (American Film Institute) in 2000.


Review: Time
"Marilyn Monroe's eye-catching gait is more tortile and wambling then ever. She also displays a nice comedy touch, reminiscent of a baby-talk Judy Holliday.