YEAR: 1959

STUDIO: United Artists

RUNNING TIME: 122 minutes

MARILYN MINUTES: Starring

Available on DVD
---
"All the girls drink-but I'm the only one who gets caught. That's the story of my life. I always get the fuzzy end of the lollipop." - Marilyn as Sugar

When Chicago musicians Joe (Tony Curtis) and Jerry (Jack Lemmon) accidentally witness a gangland shooting, they quickly board a southbound train to Florida, disguised as Josephine and Daphne, the two newest - and homeliest - members of an all-girl jazz band. Their cover is perfect...until a lovelorn singer (Marilyn Monroe) falls for "Josephine", and ancient playboy (Joe Brown) falls for "Daphne", and a mob boss (George Raft) refuses to fall for their hoax! Nominated for six Academy Awards, Some Like It Hot is the quintessential madcap farce and one of the greatest of all film comedies.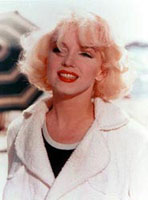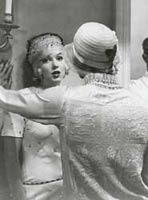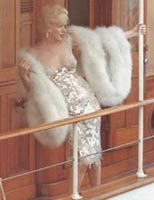 My opinion: Voted the funniest America film by AFI (American Film Institute) in 2000, you can't be a Marilyn Monroe fan without this movie in your collection. Not only is Marilyn great but for once her leading men are just as funny. If you want to share a Marilyn movie with your family and friends this would be a good choice to start them off with. Here is a little secret to watch out for. In the scene where she talks to Curtis on the phone, Marilyn can be seen reading her lines from an off screen blackboard.

Review: Variety
" To coin a phrase, Marilyn has never looked better. Her performance as 'Sugar', the fuzzy blonde who likes saxophone players and men who wear glasses has a deliciously naive quality. She's a comedienne with that combination of sex appeal and timing that just can't be beat."