YEAR: 1953

STUDIO: 20th Century Fox

RUNNING TIME: 91 minutes

MARILYN MINUTES: Starring

Available on DVD
---
These glamorous showgirls have everything a girl could want - except engagement rings! In a quest for love, Lorelei (Marilyn Monroe) and her pal Dorothy (Jane Russell) set sail on a luxury-liner bound for France.
But the pair hits rocky waters when a manipulative detective, an over-aged, over-sexed millionaire and the entire men's Olympic team try to put an anchor in their marriage-minded mischief. It's a wild ride across the Atlantic as our bathing beauties plan and plot a way to land their men.

My opinion: This movie is Marilyn Monroe. I love this film. Marilyn's performance of "Diamonds are a girl's best friend" is a must see. This is a delightful comedy with Marilyn singing and dancing throughout. I would suggest this as your first Marilyn movie. She looks absolutely breathtaking in it and she is a comedic genius.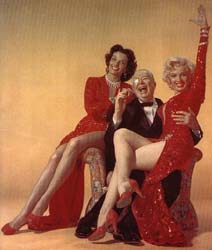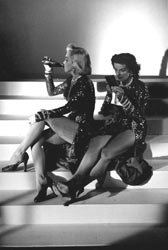 Review: Los Angeles Citizen News
"As Lorelei Lee, Marilyn looks as delectable as a ripe peach. She also surprises with a remarkably stylish voice piping 'Diamonds are a girl's best friend' in a lavish production number."