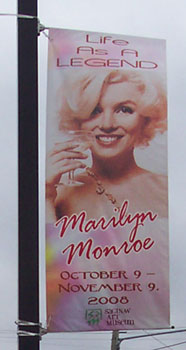 When I learned that the art exhibit Life as a Legend was coming to Saginaw Michigan I asked my friend Kim if she wanted to go. The main reason I was willing to make the 4.5 hour drive is because in addition to the exhibit, Sunny Thompson was going to be performing her one-woman show Forever Blonde. I was supposed to see Sunny's show during my 2007 LA Trip but unfortunately it was cancelled. I didn't want to miss it this time.

Even after being stopped at the border for 1 hour and having my car searched - our spirits weren't dampened. The staff at the hotel were so friendly and welcoming. They even had a shuttle arranged to take us to the events. We went to the art exhibit in the afternoon.

Life as a Legend starts off with actual photographs of Marilyn in chronological order. Many of the photographs are large scale and signed by the likes of Bert Stern, Douglas Kirkland, Milton Greene and Tom Kelley. While there isn't anything super rare it is still wonderful to see them displayed in this manner instead of just in a book or on your computer screen. The series of Tom Kelley red velvet images and the Kirkland set were some of my favourites.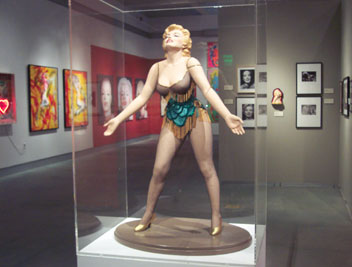 As you progress through the exhibit there is an area where you can sit and watch clips of Marilyn. It was always occupied while we were there. I was impressed by the constant stream of people or all ages attending the exhibit. It is wonderful that Marilyn is still a draw. The exhibit then changes into artwork by artists from all over the world inspired by Marilyn. I enjoy viewing the pieces (some were better than others). It was over too quick though. Afterwards, we visited the gift shop where they had lots of Marilyn goodies including a companion book to the exhibit. Later we realized there was lots of items in this book that were not part of the exhibit. I guess they must rotate them around or display more in locations that have the room.
After the exhibit we grabbed a quick dinner and prepared for that evening's performance of Forever Blonde. At the theatre there were beautiful programs, etc available for purchase. It indicated that Sunny would be available afterwards to sign them. I met up with Katy from the Norma Jeane to Marilyn fanclub at the theatre. She was wearing the cutest Marilyn dress! In fact, I've never seen so many Marilyn purses being carried around! It was a great turnout.
I really can't say enough about the show itself. It isn't an impersonator show where someone just stands there and sings Marilyn songs. The premise of the play is Marilyn in 1962 is telling her story in her own words. I couldn't believe how many times I heard lines that Marilyn really said. The amount of research that went into this play is amazing.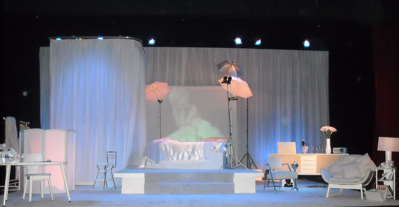 The set design was truly stunning. Everything was white. When the lights went out and Sunny appeared on the bed in white sheets posing as flashblubs lit each shot.....I got goosebumps up and down my arms. I've never seen anyone capture Marilyn like she did.
Sunny has Marilyn's voice perfected. I really felt like it was Marilyn speaking. She was able to capture the audiences attention for 2 hours - which is no easy feat. Costume changes took place behind the dressing curtain while she continued to speak. It felt just like we were in Marilyn's bedroom.
Of course there were a couple of times when I cringed a little, worried that Sunny was about to cheapen Marilyn's memory. Sex is discussed pretty openly and yes I could have done without the Joan Crawford and Joe Schenk references. But the audience responded to it and in the end it didn't do anything to ruin or exploit Marilyn. I was pleased that there was no pill-popping and the ending was handled with class. In fact, the ending was quite unexpected. The play starts off on such a light, upbeat, funny feel that you aren't prepared when the real Marilyn is revealed. It was heartwrenching and I couldn't help but cry. It felt so real.
After the play, Kim, Katy and I were lucky enough to go onstage and take a few photos! It was soooo much fun! (Thanks again Kristin!). Sunny came out to sign autographs and it was truly a pleasure meeting her. I realized that she has a real respect for Marilyn and this isn't just a job to her.
I really can't say enough about this play. If you have the chance to see it - DON'T MISS IT.