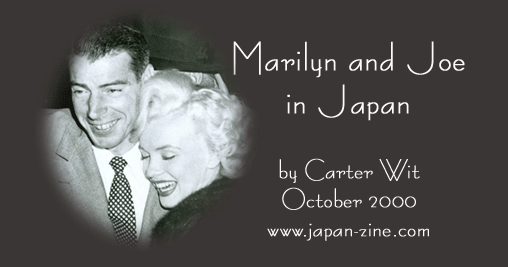 She was arguably the most famous movie actress of the 20th century. He was the ultimate hero of baseball fans around the world. Their marriage was a white hot amalgam of two of America's most incandescent icons, one at the end of his prolific career and the other at the brink of super stardom. The wedding of Joe DiMaggio and Marilyn Monroe occurred at a crossroads for both of them and for the world. It was a time when American culture was beginning it's long march to global saturation, and nowhere was this pervasive influence felt more acutely than in post-war Japan.
The year was 1954. Akira Kurosawa's "The Seven Samurai" was captivating movie audiences as was the original Godzilla film. The Americans were involved in the Korean War, and GI's roamed Roppongi nightclubs and hostess bars with wild abandon.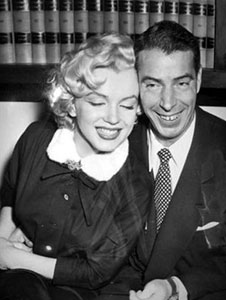 Joe and Marilyn had wed on January 14th of that year. The ceremony was supposed to be a secret, but word was released through 20th Century Fox Studios, to which Marilyn was contracted, an hour before it began. Joe was a quiet man of few words that bore his fame with humble dignity. By marrying the ultimate sex symbol, an intelligent woman who courted the limelight with verve and tenacity, he was making a Faustian bargain. All Joe wanted was a woman to come home to. What he got was something very different indeed.
When word about the ceremony spread, it created a firestorm of publicity. The couple were mobbed by a crowd of 500 onlookers and reporters as they sped away in Joe's dark blue Cadillac to a $6.50 motel room at the Clifton Motel in Paso Robles, California. Their plan to escape incognito worked – even the motel owner didn't recognize them. The next two weeks were spent at a mountain hideaway outside of Idyllwild, near Palm Springs, before leaving for their honeymoon – a baseball promotion tour of Japan.
The history of baseball in Japan is intimately tied to a group of some of the game's most famous players – Joe among them. Throughout the early 1900's the American game, which the Japanese called yakyu (field ball), had slowly gained in popularity over the nation's traditional sport, sumo. Baseball greats Babe Ruth, Lou Gehrig, Jimmy Fox, Al Simmons and many others had participated in All-Star tours to Japan before World War II.
The war disrupted baseball in Japan, and the league succumbed completely in 1945. But after the war, the occupation forces attempted to re-ignite passion for the game. The Giant's Korakuen Stadium, used as an ammunitions dump and a farm during the war, was cleared under the direct orders of General Douglas MacArthur.
One of the players most actively involved in promoting the game here was "Lefty" O'Doul, Joe's best man and the manager of the San Francisco Seals – DiMaggio's first baseball team. O'Doul, who is often called the "Father of Modern Japanese Baseball," was a veteran of the pre-war tours and is credited with giving the Tokyo Giant's their name.
When the All-Star tours resumed in 1949, O'Doul's team returned to play 16 undefeated games against the Japanese. And it was with O'Doul that Joe came to Japan for the first time in 1951, closing out his career with a series of games that drew crowds of over 50,000 Japanese fans and enormous adulation. Three years later, while Joe was still as famous as he had ever been, his honeymoon with Marilyn in Japan would put his celebrity into new perspective.
After their hastily arranged wedding, O'Doul recommended that the couple spend their honeymoon in Japan. Joe and he were scheduled to promote American-style training for the Japanese leagues under the sponsorship of Yomiuri newspaper owner Matsutaro Shoriki. Ever since their nuptials, Marilyn and Joe had faced huge crowds and unrelenting media attention. While their marriage was front page news across the US, O'Doul reasoned that in a foreign country they could find relief and wander around without drawing much attention. He could never have been more wrong.
Marilyn had started her national movie career in 1947 playing a waitress in the movie "Dangerous Years". But her real ticket to stardom came with a role in the 1950 movie, "All About Eve," starring alongside such Hollywood legends as Bette Davis and Anne Baxter. Marilyn's career was suddenly on the fast track and by 1953 she had three huge hits in "Niagara," "Gentlemen Prefer Blondes," and "How to Marry a Millionaire". But it was her part in Niagara that had blasted her into the Hollywood firmament, establishing her as one of the movie industry's biggest draws. Her sultry sexuality was shocking to some, seductive to others, but she was anything but an unknown to Japanese audiences. Marilyn had been to Canada and Mexico, but his was to be Marilyn's first trip overseas. Neither she nor Joe could gauge the reaction awaiting them. The first inkling of what lay in store surfaced on a stopover in Hawaii.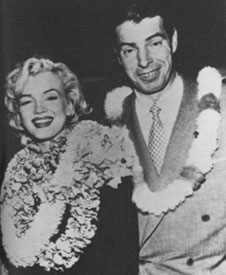 Along with O'Doul ad his wife Jean, the foursome boarded Pan Am Flight 831 from San Francisco Airport and landed nine-and-a-half hours later in Honolulu. Stepping out of the aircraft doorway, they were initially greeted by Hula dancers, airline officials and a Honolulu police escort. Marilyn came down the walkway first, stopping halfway to toss the hair out of her eyes and flash her trademark smile. She looked a little sleepy. Joe behind her looked a little grim. Soon a rapidly growing crowd of people began to swarm around them, and more were coming over from other planes to see them.
In a state of near hysteria the crowd began pressing closer and closer around the couple, some even began reaching out to touch and even pull Marilyn's hair. Police and local officials agreed they had never seen anything like it. Finally a police wedge assisted them out to a convertible driven by Joe's old friend Louis Benjamin, a local bar owner during Joe's WW II days Hickman Field. They sped away with police escort to the legendary Royal Hawaiian Hotel where Marilyn and Joe were given special honeymoon accommodations. When the press asked about the couple's Hawaii plans. O'Doul replied, "They're going to spend their time staying away from the mob, you know – lovebirds on honeymoon."
As was soon to become readily apparent, the trip they had embarked upon would be spent trying to stay one step ahead of "the mob," and seldom far away from it. After what must have been a romantic night at the famous "Pink Palace," the couple boarded a 2:00am flight to Tokyo which lasted about 10 hours. It was during this part of the flight that General Christenberry apparently approached Marilyn and asked the film star about visiting the troops in South Korea. A formal invitation would come later from General John E. Hull of the military's Far East Command.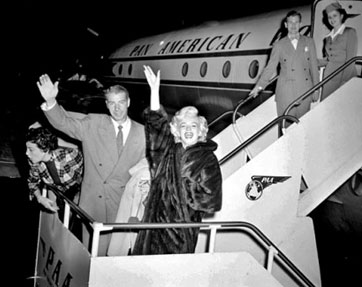 Their arrival in Tokyo on February 1st was bedlam. Some 3,000 people met them at the airport. During the wait for the plane, photographers had broken through police lines, mobbing Japanese schoolgirls and some Japanese actresses, crushing flowers they had intended to hand to the movie star. Because of the huge crowd, Marilyn and Joe had to be smuggled through the cargo hatch of the Pan Am clipper to a waiting car, losing the O'Doul's in the shuffle. After reaching the car, the frenzied mass of people began throwing themselves on top of it. A phalanx of Japanese police Jeeps led them to the Imperial Hotel. Winding through Tokyo streets crowded with onlookers took six hours and when they finally arrived at the hotel, they found it was also mobbed.
Opened in 1923, the day of the Great Kanto Earthquake, the Imperial Hotel was host to a sparkling array of celebrities, politicians and ambassadors. Located across from the turreted Imperial Palace, and considered by many to be one of the world's great buildings, it had been designed by famed architect Frank Lloyd Wright. Wright had been inspired by the Mayan ruins at Chichen Itza in the Yucatan, and the result was a dizzying collage of stone and space employing the most extravagant features of Mayan and Art Deco architecture.
Arriving at the Imperial in those days, guests would pull up under the cedar-framed porte cochere before being escorted into the amazing building, festooned with hand-painted peacock designs and shimmering with gold leaf. Monroe would be captivated by Wright for the rest of her life, eventually calling upon him to draw plans for a house she hoped to build with future husband Arthur Miller.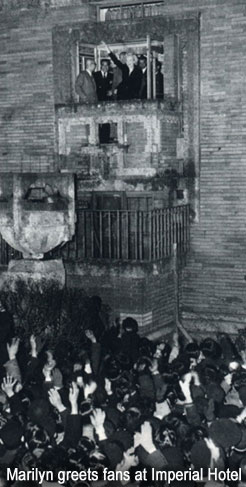 Once Marilyn and Joe made it inside, crowds tried to smash down the doors to the hotel. Despite the best efforts to the police to make them disperse, the assembled mob threw themselves through plate glass windows, pushed each other into the elaborate fish ponds and jammed revolving doors.
The crowd refused to leave, and the fracas only died down after Marilyn was persuaded to make an appearance on a second floor balcony. Meanwhile gurads were placed in front of their door for added security. "They're MAD!" said Marilyn, "I feel like I'm a dictator!" An obvious reference to Juan and Evita Peron.
The kind of adulation heaped upon Marilyn had heretofore only been the perquisite of the powerful. Consequently such behavior was not simply shocking, it was unheard of.
Joe was the traditional kind of hero, a modern day samurai, respected for his power and dignity. In some ways, he represented the old order as an emblem of American's pre-war cultural exchange with Japan. Marilyn represented something quite different. She was the leading edge of the coming sexual revolution and a new kind of American export: the cult of the pop culture personality.
Indeed it is worth noting that in today's Japan (as elsewhere), celebrity is a disposable commodity, slathered over the famous, and indiscriminately dumped on the merely notable. And for those caught in the media spotlight, there is little of one's private life that isn't prone to tabloid scrutiny and the curiosity of fans. Take for example the hysteria that broke out in 1999 when popular actress Ryoko Hirose appeared at a Tokyo university to register for classes. But it was not always so. In 1954, this phenomenon was still in its infancy.
Long before the term "stalking" entered the Japanese vernacular, Marilyn would become one of it's most distinguished victims. In modern day Japan, however, even obscure actors and "talents" can well imagine the ordeal Monroe was put through.
Such hysteria naturally provoked widespread debate and commentary in the Japanese press. One psychologist stated that "Marilyn's appeal lies in the fact that she does not wear any spiritual underclothing." "Madame Masako," a fashion designer, opined that Monroe's popularity attested to the desire of young girls to pursue sexual liberation and "their instinct of wanting to become beautiful." Movie critic Tadashi Iijma noted that "Monroe's walk and jazz have in common a certain rhythmical quality and the power to stimulate the highest sensation of sex." Another, more vinegar tongued newspaper columnist stated that "It is a sort of chain reaction and a sign that the heads of the masses are empty." While opinions about Monroe's influence were mixed, everyone seemed to have one.
The next day, February 2nd, Marilyn and Joe held a crowded news conference at the hotel. Joe, used to the adulation of fans and reporters, went relatively unnoticed in a corner of the room. His audience consisted of a small handful of baseball reporters, while Marilyn stole the show.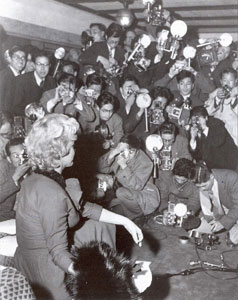 When she was asked about the famous "Monroe Walk" that had received so much attention in Niagara, she replied coyly, "I've been walking since I was six-month's old and haven't stopped yet." The movie had featured a scene billed at the time as "the longest walk in film history." To accentuate her "horizontal walk," Monroe had secretly sawed off part of a high-heel shoe, giving her hips added gyration.
Much was also made of her penchant for not wearing underwear, and while a lace slip peeked from under her tightly fitting wool suit, all of Tokyo wondered if not wearing underwear would be the next "Big Thing." Wherever she went for days afterward, you could hear wolf whistles. It was as if everyone was thinking, "She's not wearing underwear." At the conference, however, Monroe made a point of mentioning that she intended to buy a kimono during her stay. She was already wearing a string of Mikimoto pearls that Joe had Lefty O'Doul purchase in Ginza. The pearls would forever remind her of her best moments with Joe. Later she would give them to her acing coach and mentor Paula Strasberg.
Then a reporter asked about plans to go to Korea to visit troops. Differing accounts have been offered about Joe's initial reaction to the tour, but one thing is clear: The idea of sharing his new wife with thousands of randy servicemen during his honeymoon was not much to his liking. When asked earlier whether Marilyn would make the trip, Joe responded, "Of course not! She doesn't have an act." Poor Joe was only now realizing that Marilyn didn't need one. She was the act. Later he is reported to have told Marilyn that , "if the Army asks you to go, you'd better go." But perhaps most telling of all is what he had to say at the Imperial Hotel news conference – "We're supposedly on our honeymoon, and this is what happens!"
While the couple had intended to take in the sights and feel of the city. The vigilant crowd outside made it all but impossible. Marilyn remained in the hotel for much of the next two days, suffering from chronic endometriosis, a condition that would plague her throughout her life. Seeking relief, a shiatsu masseuse was called to her room. Tokujiro Namikoshi, the founding father of modern shiatsu, entered the room to discover Marilyn lying naked on the bed. As he later recounted to one of his students, she was "wearing nothing but Chanel No. 5." Namikoshi found it hard to concentrate on his work, eventually spreading his handkerchief over the more distracting areas. But within five minutes the pain had dissipated and Monroe was so relaxed that she began to fall asleep. The shiatsu master would forever remember what it was like to be alone in a room with the naked blonde bombshell.
Marilyn may have been a goddess, but to many Joe was God. DiMaggio's career was well known to ordinary Japanese. During his 13 years in the big leagues, Joltin' Joe led the Yankees to ten world series, winning nine of them. In 1941, he achieved baseball immortality with a hitting streak that lasted 56 consecutive games. A lesser man would have succumbed to the lure of idolatry that such mystical feats encouraged, but Joe never did. He tried to give back to the game that had given him so much. That was the reason he and O'Doul had agreed to come to Japan in the first place. He planned to instill Japanese teams with a renewed sense of the game's fundamentals, especially the importance of fielding. He also encouraged setting up special coaches for pitching, hitting and fielding, an uncommon practice in Japanese leagues at the time.
Over the course of the 24-day baseball promotion tour, DiMaggio would practice with six major teams in Japan. Naturally the Giants – who were sponsoring him – were first on the list. But the Kintetsu Swallows, Shochiku (Yosho) Robins Hirosima Carp, Hanshin Tigers and Chunichi Dragons would all get time with the Yankee Clipper during his stay.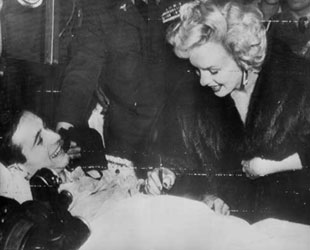 Marilyn did make it out of the hotel on February 5th to visit the Tokyo Army Hospital. After keeping patients and staff waiting for 40 minutes while she got her hair, toes and nails done (along with another nude massage), Marilyn appeared and signed body casts and posted for photos. The papers called her "the greatest cure since penicillin."
While Marilyn did the rounds in Tokyo and finalized plans for her Korean trip, Joe and Lefty went ahead to Kawana, on the Izu Peninsula, where they had scheduled a weekend of golf and relaxation at the baronial Kawana Hotel. In 1950's Japan, which was still struggling to recover from the devastation of WW II, the Kawana Hotel was a rare oasis of luxury. The 140-room resort was built in 1936 by wealthy industrialist Baron Kishichiro Okura as a showcase that would cater to foreigners. Its commanding view of the Pacific and two gigantic seaside golf courses has made it a magnet for the wealthy and elite ever since. In 1958, John Wayne made his home there during the filming of "The Barbarian and the Geisha," and Prime Minister Hashimoto held a summit meeting there with Russia's Boris Yeltsin in 1998.
Marilyn arrived by train tired and ill from Tokyo. The numerous inoculations given to her in preparation for her upcoming Korean tour made her queasy and lethargic. In addition she had a sore thumb, rumored to have been inflicted during an argument in which Joe knocked a glass out of her hand. Marilyn wouldn't be playing golf anyway – she didn't know how. Instead the men and their wives played billiards, dined under the open-beam ceilings, relaxed in overstuffed chairs in front of Art Deco fireplaces, and enjoyed a rare moment away from the crowds.
On February 8th, the group headed off to Fukuoka. Arriving by plane at Itazuke Airport, they were quickly sped away to the Kokusai Hotel in Nakasu (now the Shiroyama Hotel). Again the couple was mobbed by fans and reporters. The next morning, the lobby and narrow streets around the hotel were packed with people. While Joe went to Kashii Field for practice with the Robbins, Marilyn was left alone with Jean at the hotel. Apparently she spent her time washing her own underwear in the sink. A reporter and three photographers were allowed to interview her during her stay, but Joe angrily demanded that they do so only when he returned. A photo taken of Monroe in a beret and white sweater reveal a woman who appears outwardly relaxed. But on closer inspection one notices that her right thumb is bandaged.
Monroe did fit in a visit to the US base at Gannosu (now Uminonakamichi koen) as well as a trip to the American Center. The newlyweds even ate dinner at the Royal Bakery (the origin of today's Royal Host chain of restaurants.) Again crowds found them, and they had to make an exit through the rear of the establishment to get away.
From there they went on to Hiroshimo, where Joe was coaching the Carp. During one of the games, Marilyn made an appearance at the ballpark. As soon as she was spotted, baseball was completely forgotten. The crowd of 5,000 went crazy, craning their necks to get a glimpse as they stormed the playing field. Marilyn was pushed and jostled as she tried to take a seat behind the net. Out on the field, Joe went virtually unnoticed by fans and at intervals also by the Japanese ballplayers themselves. DiMaggio, whose popularity in the country had been likened to that of McArthur, had been swept aside by what the papers called the "Monroe Hurricane."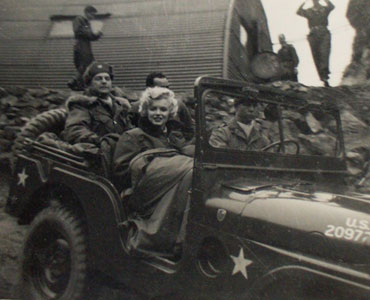 As loud as the cheers were in Japan, they were nothing compared to what came next. After a stop in Hanshin, where DiMaggio and O'Doul spent their time training the Tigers at Koshien, Marilyn departed for Korea with Jean. For four days Marilyn toured the front lines and swept across the frozen battlefields like a heat wave melting ice, snow and the hearts of thousands of servicemen. Wearing only a skintight purple dress in sub-zero temperatures, she wowed over 100,00 troops during shows in which she sang her trademark tune "Diamonds are a Girl's Best Friend." Another song in her set called "Do it Again," had to be altered to "Kiss Me Again" after a riot broke out at one of her appearances.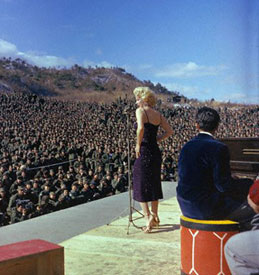 Marilyn was overwhelmed by the enthusiasm of the soldiers. "I've never seen so many men in my life," she said. But she reminded everyone she was married when, swinging an imaginary baseball bat, she told one crowd, "I'm sorry Joe can't be with me in Korea."
During her time in Japan she had begun to discover the extent of her fame. But she would always mark the trip to Korea as the moment when she realized she was truly an international star. Returning to Japan after the tumultuous four-day journey, she remarked ingenuously to her husband, "It was so wonderful Joe, you've never heard such cheering!" Dryly he replied "Oh yes I have."
On February 24th, Joe and Marilyn left Japan. Within eight months their marriage would be over. There were numerous arguments, but their final break-up occurred during the famous subway grate scene in the movie "The Seven year Itch." Joe watched 5,000 gawkers cheer as Marilyn's skirt was blown over her head for several takes before he erupted with rage. In his opinion, the movie, and many of the characters she played, exploited her. Marilyn filed for divorce on October 2nd, but the two remained close and were rumored to be engaged at the time of Marilyn's death in August 1962. It was Joe who arranged her funeral and for twenty years he baseball legend had a long-stem rose delivered to her grave twice a week, fulfilling a promise made on their wedding day.
---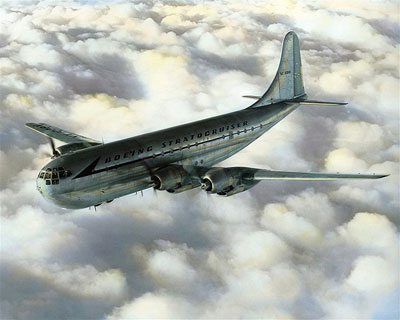 When Joe and Marilyn took off from San Francisco on January 29th 1954 aboard Pan Am flight 831, they did so in the kind of comfort and style that can only be imagined today. They traveled aboard a B-377 Stratocruiser – a flying hotel so luxurious that passengers could have their own beds and enjoy on after dinner drink in a lounge.
The B-377 was a descendant of the B-29 Superfortress bombers which were famous for their long-range and high-speed (the Enola Gay being the most notorious example.) The B-29's wings, engines and tail were mated with a completely new fuselage, whose dimensions were huge. The characteristic blunt nose may not have seemed streamlined, but the Stratocruiser flew faster (375 mph) and farther (4,600 miles) than any passenger aircraft of it's era.
For these reasons the Stratocruiser was the mode of choice for those facing marathon journeys across the Atlantic and Pacific oceans. While cruise ships still provided unparalleled luxury and relaxation, for a brief period between the war and the jet age the Stratocruiser was the most comfortable way to travel fast – earning the nickname the "Queen of the Skies."
Manufactured by Boeing, and called a Stratoliner by other airlines, the Stratocruiser began service in 1949. It was the first commercial aircraft with a pressurized cabin allowing it to cruise above 25,000 feet. Pan Am's fabled "Strato Clipper Service" set a new standard for luxurious air travel with its tastefully decorated extra-wide passenger cabin and gold-appointed dressing rooms. A circular staircase led to a lower-deck beverage lounge, and flight attendants prepared hot meals in a state-of-the-art galley. The planes accommodated 81 pampered passengers with fully reclining seats and 28-sleeping berths in the cabin above.
After evening takeoff you could adjourn to the bar and lounge. A few drinks later, you would climb the stairs to the upper deck to a seven course dinner, then back down to the cocktail lounge for an after dinner drink, while the flight attendants prepared your sleeping berth.
Boeing only built 56 Stratocruisers between 1947 and 1950. While they marked the company's first significant success selling passenger planes to airlines in other countries, the B-377 was beset by problems. They were expensive to fly. Propeller problems, high maintenance costs, low passenger loads and several accidents made them unprofitable. In the end, the luxury of the Stratocruiser was overtaken by speed and economics of the jet age. When the 707 was introduced in the late 50's, flying times were cut in half, leaving the dwindling fleet of Stratocruisers grounded on abandoned airfields and desert parking lots. Today only two of the aircraft survive, relics of an era when getting there was half the fun.

A VERY SPECIAL THANK YOU - Dan Adams was kind enough to send me a copy of the above article which appeared in a magazine he found in Japan. I loved reading about their time in Japan and also the details about the flight my tickets are from. At the end of the article there was a reference to a book called "Faces of Fukuoka" for more information. It took me awhile to track down a copy and here is the chapter on Marilyn....
---

On February 8th, 1954, Monroe fever hit Fukuoka. The blonde bombshell was on a fast train to stardom and with her baseballing hero husband Joe DiMaggio she arrived at Fukuoka's Itazuke airport at 7pm. The couple were on their honeymoon and were whisked away to avoid the crowd of fans who had gathered to greet the closest thing that America had to a royal couple.

Postwar Japan was on a one way street to Americanisation, and in Fukuoka Coca Cola, Pepsi, hamburgers and hot dogs were symbols of style. The Akai Kutsu, Shanghai and Florida dance halls were filled with young people dancing the night away, and Hollywood movies were like a cultural utopia that lit up the imagination of a country recovering from the horrors of war. The arrival of Marilyn in the provincial outpost of Fukuoka was greeted with enormous excitement, and the media jostled for positions to cover the story of the year.

By 1954 cinema culture had planted firm roots in Japan. It was the year that the science fiction classic Godzilla hit the world's screens, a movie that was in fact inspired by the Bikini Atoll H-Bomb test in which fallout contaminated the entire crew of the Japanese fishing vessel Daigo Fukuryu Maru. Godzilla became the country's biggest ever box office hit, outstripping Kurosawa's classic "The Seven Samurai", which won the Venice Film Festival award for best movie. The year also saw Audrey Hepburn in "Roman Holiday" and the first ever Japanese dubbed version of "Dumbo" reached the screens.

The Fuku-Haku area of Fukuoka city, which is the central entertainment area, boasted over twenty four cinemas, almost double the number in the same area in 1993. Many famous American movie stars, including academy award winner William Holden, visited Japan that year, however it was extremely rare for any such star to make their way to Fukuoka.

DiMaggio, 39, wed Monroe, 27, on 14th January and they came to Japan for their honeymoon. Joltn' Joe DiMaggio, champion slugger for the New York Yankees with a career average of .325 had visited Japan a few years earlier and was received as a hero. During that visit he was chased throughout the country by photographers, journalists, and autograph-hungry baseball fans. He was at the top of his profession and his popularity in Japan seemed to be as high as in his own country.

This time his schedule included a visit to the six pro-baseball teams in Japan, and the couple dropped in on the Fukuoka-based Shochiku Robins. However, the Japanese media and movie fans only had eyes for Marilyn who had just started to make a name for herself after the movie Niagara, and at their first press conference in Tokyo the journalists' questions and photographers' lenses were aimed firmly in the direction of Monroe. In fact halfway through the conference DiMaggio got up and left in a huff. Apparently the tension between the newlyweds was evident even before their arrival at Fukuoka.

The couple stayed at the Kokusai hotel in Nakasu (now the Shiroyama hotel and previously known as the Nikkatsu Hotel), which was then the only hotel to accommodate overseas visitors. The following morning fans jammed the lobby and the narrow street along the Nakagawa river trying to catch a glimpse of the movie star. At the same time a young reporter, Shoji Kawamura (26) at the Fukunichi newspaper was called in by his editor and given his orders: "Get the scoop on Marilyn"!, and along with no less than three photographers he set out for the hotel to grab the story of his life.

Kawamura strolled into the hotel and after asking the room number went straight to room 313. The nervous reporter knocked on the door to be greeted by DiMaggio, only to be told "Nobody talks to my wife until I get back." The crew had to wait till that afternoon while DiMaggio visited the Kashii baseball park where he gave advice to up and coming baseballers on the style of major league for about two and a half hours. On DiMaggio's return to the hotel Kawamura placed his three cameramen in readiness for the interview, one on the street, one with him and one taking his life in his hands on the outside ledge of the second floor.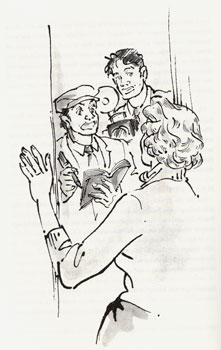 Kawamura's hand was shaking as he knocked on the door then, suddenly, it opened. A shiver of awe ran throughout the young reporter's body as a million dollar smile greeted him. The radiantly beautiful Monroe wore a white sweater, black skirt and black beret. The braless body displayed curves and proportions unseen in Fukuoka at the time. Though Kamamura was chosen to do the story for his English fluency, nervousness caused him to lose his tongue and he resorted to conversing through Marilyn's interpreter.

"I'm Kawamura from the Fukunichi Newspaper, would it be possible for us to ask you a few questions and take some pictures'?, he asked hesitantly. "Of course, I would like to pay my respects to the local media and my fans", replied a cooperative Monroe.

She was more than happy to stroll down the corridor for the cameraman who busily replaced flashbulbs after taking shots of not only her face, but legs and hips as well. As she blew kisses to fans who packed the street outside, another cameraman crept along the ledge like a gecko snapping madly while trying to preserve his balance.

Kawamura noticed that her right thumb was bandaged and asked what happened. "It's a blister from signing too many autograph" she replied. Later it was to be revealed that it was a cut caused when Monroe and DiMaggio had a tiff and he knocked a glass out of her hand, cutting her thumb.

The Fukunichi Shinbun team got the scoop of their dreams, and the next issue featured a pictorial story title "Marilyn hits Hakata like an H-Bomb!"

The following day Kawamura followed Marilyn as she visited the US base in Gannosu (now Uminonakamichi Koen) and was greeted with all the enthusiasm of soldiers in a remote post. Back in those days female visitors were a rarity and the only entertainment that the soldiers had was at the "Rest Houses" in designated areas of Fukuoka where bars and brothels operated by a well-known tour company catered exclusively for the US forces.

A visit to Dazaifu to see the Ume plum blossoms was scheduled but a change in plans saw the couple take a drive to Higashi Koen. Later they visited the American Center to show the latest baseball newsreel. DiMaggio and accompanying manager O'Doole gave a speech at the center to the players and families of the Shockiku Robins baseball team while Marilyn sat quietly next to the projector at the back of the room. Projector operator Akira Ogata remembers the slightly bored Monroe sitting next to him as he showed the movie. After the showing he lined up to shake her hand and searched his pockets for a piece of paper to get her autograph, but all he could find was his weekly bus pass. She obligingly signed it, leaving an indelible mark in the twenty one year old Ogata's memory. Fans gathered outside the American center which was the only English conversation school at the time, tutors being mostly wives of the elite military forces stationed in the area. The American Center now proudly displays a photograph of Marilyn taken during her visit. In the evening the couple dined at the Nakasu restaurant Royal Bakery (the origin of the Royal Host Restaurant chain) where they had to sneak out the back exit to avoid the crush of fans trying to catch a glimpse of them.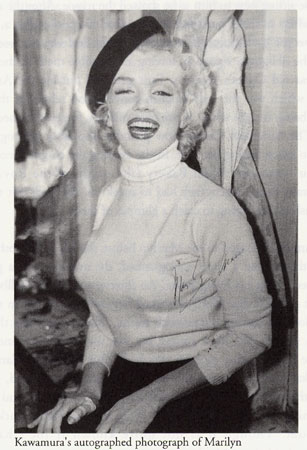 Kawamura managed to see Marilyn before she left for Hiroshima on the 11th and had a photo autographed, the original now a priceless item decorating his living room. An interview with the bellboy after she left revealed that Marilyn washed her own underwear in the sink while Joe was visiting the baseball teams. "She was not like the usual foreign visitors who leave a mess, but was very tidy and punctual, in fact the tidiest visitor we have ever had". But even after Marilyn left Fukuoka souvenir hunters moved in. Though unconfirmed, rumour had it that staff of the hotel scoured the room's bathroom and bed for remaining bits of hair and sold them on the black market at a premium.

Four years later the-Fukuoka based pro baseball team Nishitetsu Lions did what no other baseball team had before and came back from being down 3-0 to win the best of seven series 4-3, a feat that Joe DiMaggio would have indeed admired.

As subsequent events showed, the marriage was on shaky ground even in Fukuoka and ended after only nine months. But though Marilyn only stayed in Fukuoka for three days, the energy and excitement that she brought to Hakata will never be forgotten.