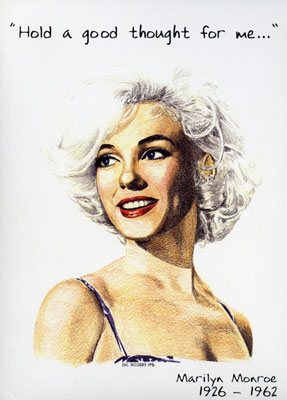 Marilyn.
Eyes full of innocence.
Vulnerable at playing the game.
They took everything from you
They even took your name.
Molded, bleached a beauty
Next they gave you fame.
The public needed a sex symbol
So that is what you became.
I guess no one ever tamed you.
Lord knows that everyone tried.
To make, then break your career
And then comfort you as you cried.
Hollywood was such a busy place.
Yet you still felt alone in a crowd.
Your friends would whisper compliments,
But your self-doubt was too loud.
You never realized your talent.
It was more than your pretty face.
It was the way you captured our hearts,
And how no one has taken your place.
It's a shame you had to leave us
Before I knew your name.
I guess that's the price you pay
For refusing to play their game.