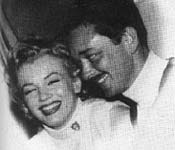 Leading costume designer William Travilla, known simply as "Travilla", first met Marilyn in 1950, when she asked if she could borrow his fitting room - he was one of several contract designers for Twentieth Century Fox - to try on a costume. They worked together on eight movies: Monkey Business (1952), Don't Bother to Knock (1952), Gentlemen Prefer Blondes (1953), How to Marry a Millionaire (1953), There's No Business Like Show Business (1954), River of No Return (1954), The Seven Year Itch (1955), and Bus Stop (1956). In his long career, Travilla won an Oscar for his work on the Errol Flynn drama The Adventures of Don Juan (1948); he was nominated for his work on two Marilyn movies, There's No Business Like Show Business and Bus Stop.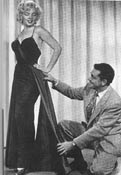 Travilla designed the vast majority of Marilyn's most memorable costumes, including the gowns she wore to such devastating effect at public events such as the 1953 Photoplay awards. He helped to sew her into the sheer gold lame dress she had worn (briefly-it was deemed too revealing to pass the censors) in Gentlemen Prefer Blondes, to go and claim her award for Hollywood's "Fastest Rising Star of 1952."

Marilyn autographed a nude calendar for Travilla with the words, "Billy Dear, please dress me forever. I love you, Marilyn."