Marlene Dietrich was born on December 27, 1901 in Berlin Germany. Her real name was Maria Magdalene Dietrich and she took up acting in her late teens. After failing an audition with Max Reinhardt in 1921, she joined the chorus line of a touring music revue. In 1922, she re-auditioned for Reinhardt and this time was accepted in his drama school. She began playing small roles on the stage and in German films, never getting anything more substantial than supporting roles. However, by the late 20's she had risen to playing leads with moderate success.

Her big break came when she was spotted onstage by American director Josef Von Sternberg, who cast her to play a sexy, seductive vamp in The Blue Angel,1930, filmed in Germany.

Von Sternberg became a dominant force in her life, molding her into a glamorous, sensuous star. She got a Hollywood contract and left her husband and daughter behind, going on to star in six films for Von Sternberg. Their collaboration made her a star equal in magnitude to Garbo.

She became an American citizen in 1939; meanwhile, her films were banned in Germany because she had refused a lucrative offer from the Nazis to return and star in German films. During World War II she entertained U.S. troops, participated in war bond drives, and made anti-Nazi broadcasts in German; she was awarded the Medal of Freedom for "meeting a grueling schedule of performances under battle conditions... despite risk to her life". She was also named Chevalier of the French Legion of Honor.

In the 50's, as her film career slowed, Dietrich began a second career as a recording star and cabaret performer. Singing to packed houses in major cities all over the world she became famous as an on stage performer. See section devoted to her music.

Late in her life, she was rarely seen in public, but she agreed to provide the voice-over for Maximillian Schell's screen biography of her Marlene (1984). She wrote three volumes of memoirs: Marlene Dietrich's ABC (1961), My Life Story (1979) and Marlene (1987). She lived a long life and was active until 1990; she died two years later on May 6, 1992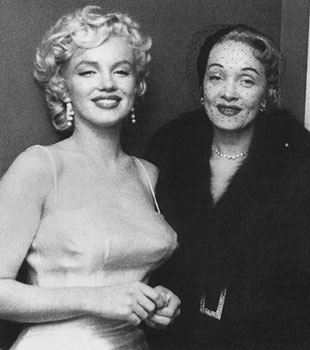 Marilyn meet Marlene in 1955 at a press conference announcing the formation of Marilyn Monroe Productions.