There have been a couple of other Barbies released that certainly have a Marilyn feel to them.
HOLLYWOOD PREMIERE BARBIE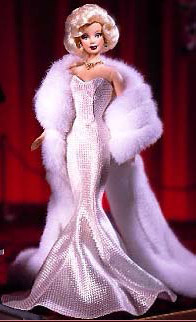 This one looks very much like a typical Marilyn appearance on the red carpet.
Everyone knows that Barbie® is a star! Presenting the Hollywood Movie Star™ Collection depicting Barbie® doll at her most glamorous. First in this exciting collection, Hollywood Premiere™ Barbie® doll looks sensational as she prepares to make her grand entrance at an opening night gala. Her stunning off-white gown shimmers in the spotlight and her floor-length faux fur stole trails behind her as she glides down the red carpet while the cameras flash. Faux diamond jewelry adds the final sparkling touch. What a fabulous Hollywood movie star Barbie® makes!