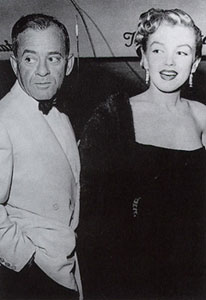 The following excerpt is from "The Marilyn Encyclopedia" :
When he first met Norma Jeane, Hyde, fifty-three, was vice president of William Morris, one of the top agencies in Hollywood; he was married with four sons, and he was seriously ill with a heart condition. Where they met is not clear. One version of how it happened was that John Carroll introduced Marilyn to him at a Palm Springs Racquet club party thrown by Joseph Schenck in January 1949. Another is that they met at a New Years Eve party thrown by producer Sam Spiegel.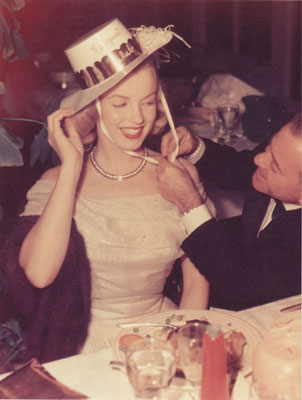 Like so many of the people that mattered in Hollywood, Hyde had been born in Europe. Hyde spent the first ten years of his life in Russia, son of a family of acrobats who brought him to America in 1906. Since 1935 he had been building up quite a portfolio of top names: Betty Hutton, Bob Hope, Rita Hayworth and Lana Turner. Over the course of 1949, during meetings and evenings spent together, Hyde fell head over heels in love with his final discovery. Marilyn found in Johnny the archetypal sugar daddy, a man with the best connections keen to give some much-needed direction to her fledging career. They made quite the comic pair: Hyde was not only more than twice her age, he was close to a foot shorter than her.
Within a few months Hyde had left his wife, Mozelle Cravens Hyde, who later told biographer Fred Lawrence Guiles, "I tried to take it for a long time, but in the end, it was impossible. I'm a tolerant person, but there is always a limit."
Hyde took Marilyn to live in a rented house at 718 North Palm Drive in Beverley Hills. To fend off prying eyes, Marilyn kept on a room at the Beverly Carlton Hotel.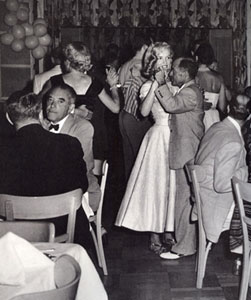 On the business side, Hyde bought out Marilyn's contract from her first agent Harry Lipton, allowing him a small percentage retainer, and dedicated himself body and soul to making her the star she became. Most importantly, Hyde called in favors from long-time pals to get Marilyn the exposure she needed. He persuaded producer Lester Cowan to add her to this Marx brothers movie Love Happy; he arranged a new audition at Fox that won her a chorus line part in musical western A Ticket to Tomahawk, and then he got what he wanted: a small but perfect part for Marilyn in John Huston's high-profile The Asphalt Jungle.
He did all of this for love. Yet no matter how many times he proposed to her, Marilyn said no. She didn't love him and she would not marry without love, even though saying yes would have made her an extremely wealthy woman.

Hyde continued to call in favors until his weak heart began to give out. He arranged a screen test at Fox for a movie called Cold Shoulder. He smoothed her path into minor exposure in Right Cross and Hometown Story. He also guided her into a role in Academy Award-winning movie, All About Eve, and promise of that all-important seven year option at 20th Century Fox.
When Hyde had the first of a series of heart attacks, Marilyn was not with him. Depending on the source, she was nearby having costume fitting for As Young As You Feel or on a trip to Tijuana with Natasha Lytess. Hyde died on December 18, 1950. Marilyn told Ella Kazan that she had been at the hospital when he died, outside his room; she could hear him calling her name but Hyde's family would not let her in.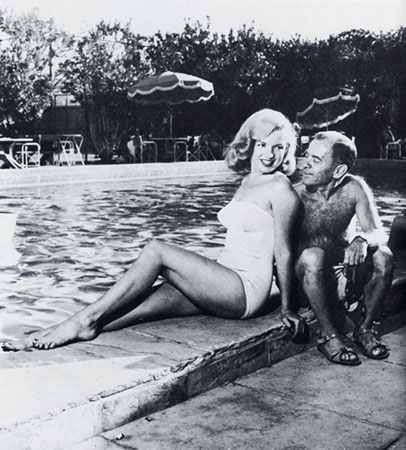 Hyde's last words to secretary Dona Holloway were reputedly, "Be sure that Marilyn is treated as one of the family." Holloway did not have the power to carry out his wishes. After his death the family threw Marilyn out of the home she had lived with Hyde, and repossessed all of the jewelry and clothes he had given her. Although Hyde had instructed his lawyers that he wished to leave a third of his estate to Marilyn, he had not actually revised his will, so Marilyn received nothing.
The family also forbade Marilyn from attending the funeral; Marilyn, however, veiled and dressed in black, went with Lytess at the appointed time. Even here, versions diverge: she either threw herself, sobbing, onto the coffin, or with more self-possession plucked a single white rose from the spray on the coffin, to preserve for years between the pages of a Bible.
After Hyde's death Marilyn was extremely upset. She was overcome by sudden bouts of tears, and for many months was withdrawn and reserved. She reputedly made a suicide attempt at this time, but Lytess, with whom she was staying, discovered her in time.