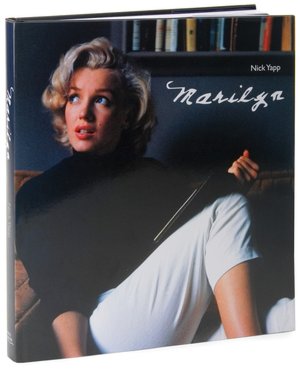 I wanted to love this book. It is a large size coffee-table type book that is heavy on photos. It features a beautiful cover photo (unfortunately shared with the popular Fragments book) and is crammed with photos courtesy of Getty Images. I particularly enjoyed the early childhood Norma Jeane photos as they are not often published uncropped. If this book was strictly a photo book I would have no problem recommending it to new fans as a great collection of photos spanning Marilyn's entire life.

However, I just can NOT get past the accompanying text. It is terrible. I had a feeling it was going to go downhill when it started off misspelling Marilyn's grandmother as Delia Monroe instead of Della. The author focused on the mental illnesses in her family, the alleged rape and that "Monroe lost count of the number of abortions and miscarriages". He also threw in a story that Marilyn was forced to give away a baby. All of this is within the first few pages.

In her early career, he highlights Henry Rosenfeld (famous dress manufacturer) as a man who loved her and lent her money, kept her secrets and paid her often considerable legal fees?? Huh? Johnny Hyde is mentioned only to say he died and Marilyn had made her third serious suicide attempt. And yes he even includes Marilyn's "marriage" to Robert Slatzer. Give me strength. He describes her in several places as having a permanent need to flaunt her sexuality and arouse men even if she met them briefly. That she would invite male escorts to her place at the same time and leave them waiting while she decided which one she wanted.

In the end I just did not like the way she was portrayed. I realize she was not perfect but I can't recommend this to fans, especially new fans, who will read it and think they have an understanding of who Marilyn was.