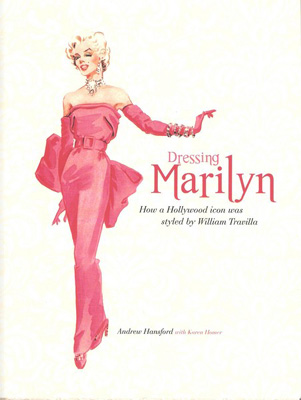 This book is definitely filled with some fresh information you won't find in other Marilyn books. Of course that is because it focuses on Marilyn's relationship with fashion designer William Travilla. Marilyn fans are all familiar with his work (even if they don't realize this) since Travilla created almost ALL of Marilyn's legendary dresses. Including what is most arguably her most famous dress, the white billowing dress from The Seven Year Itch.
The book builds on an exhibition that took place in the UK featuring prototypes and gowns that Marilyn wore from the Travilla estate's collection. I have always been a fan of these dresses (and the sketches which have appeared on my website for many years) so I really enjoyed the way they were presented in this book.
I would have enjoyed more detailed information on Travilla's life (his biography section was the same length as the book introduction). However, the book is really about the dresses. It goes into great detail about how they were made including fabric choices and how the dresses were altered. There are chapters dedicated to each of the famous gowns (the gold dress, the pink dress, the white dress, etc).
Accompanying the text are wonderful photos of Marilyn wearing the dresses on screen and in test shots. I particularly enjoyed seeing current photos of the dresses (from various collections and the Travilla estate) as well as the original sketches and patterns. The patterns would even include a swatch of fabric. It is visually stunning to see it all put together like this.
I would recommend the book to Marilyn collectors and in particular anyone who has an interest in fashion design and how these gowns are constructed. I really enjoyed the presentation and it made up for being unable to see the exhibit of these gowns in person.

You can purchase this book through the Amazon link below....