---
Meeting Bert Stern
I got the amazing opportunity to meet Bert Stern in person on June 16, 2011 and he signed my copy of The Complete Last Sitting. You can read the full story on my blog here.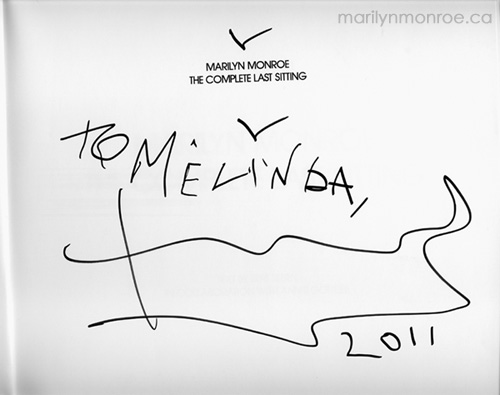 ---
BOOK REVIEW BY DAVID MARSHALL
Christmas season is just warming up so I figured Iíd highlight another of those major coffee table books this week. Itís going to be up to you if you want to add it to your wish list or if you would prefer to boycott Mr. Stern all together.
Itís a rough choice. On one hand youíve got a huge book of extreme quality and a tagline on the cover that reads ì2,571 Photographsî. On the other hand youíve got the work of a man many feel took advantage of Marilyn while she was alive and disregarded her wishes after her death. Like I say, itís a rough call. Used to be when boycotts came around you would have an easy time deciding-- like not buying grapes so as to support Cesar Chavez or not ordering Coors when in a bar. But where it might be easy to go for apples over grapes or Bud over Coors, avoiding the massive collection of photos taken over a three day period, (June 23, 24 and 25, 1962), during a time where many feel Marilyn was at her most beautiful--- itís going to be a very, very hard choice. But if you are anything like me, you wonít hesitate a second. Yes, I feel kind of bad about it but I tell you, the minute I saw that Stern had come out with the COMPLETE Last Sitting, I dug that credit card out as fast as I could and even considered taking a cab rather than lugging the massive tomb home on the subway.
For those of you who might not know the controversy that surrounds Stern and all of his work with Marilyn, there really is plenty to be angry about. First, regardless if it were at his urging or just something he allowed to happen, Marilyn got more than a little tipsy during one of these sessions and the result was several photos taken of her without her consent as she slept. Then thereís the matter of the Xs. Marilyn, as with all her photographers, had a clause that allowed her to review all of the photos prior to anything being published. She would then X out those she did not want to be seen: either with a red marker, fingernail polish or at times with an object that would scratch right into the negative. It would be impossible to not understand her wishes. Yet Stern did just that-- completely disregarded her wishes and published several of the photos she had expressly vetoed. Then thereís the matter of his -- what? Arrogance is what Iíd call it. Itís the title of his first book, ìThe Last Sittingî followed up by this volume, ìThe Complete Last Sittingî. For those of you who havenít been filled in-- Marilynís work with Bert Stern was not the last nor was it the second to last ìsittingî. It might be the last sitting, (and the first I believe), that Stern did with her but it was not the last professional photography session of Marilynís. That would be her work with Allan Grant for the LIFE Magazine Meryman interview. And then between Stern and Grant there was her two day session with George Barris.
So yeah, Sternís got a bit of an attitude thing goiní on. But man, who can blame him? Well, a lot of folks I guess but Iím the wrong one to ask as I LOVE the guyís work. Well, most of it.
Thatís the thing with Stern. You either love his stuff or you hate it. And the photos that resulted from the three day session are far from even. Some are just about the best stuff she ever did -- like those black and white shots of that incredible backless black dress. Some are pretty mediocre-- like the ones with the ìgo-goî dress. And then thereís the ones I always think of as ìthose God awful things with her laying on the floorî where Stern photographed Marilyn with various bits of costume jewelry and glitter tossed on her. Again, Iím biased as Stern took a photo of Marilyn during these sessions that to me is the Ultimate photograph of Marilyn Monroe. Head back, lips parted, all the familiar nuances but then with that soft pillow white hair coming down over one eye and an overall 60s look that, for me, spells MARILYN like no other photograph taken of her.
Now before you make up your decision of begging for it as a Christmas gift or boycotting all of Sternís books, think about that tagline. 2,571 photographs. Talk about temptationÖ And all on that fine, thick, expensive, high-quality paper. Ooooh man.
And thatís what makes this book-- those 2,571 photos are quite an insight into just what all goes into a photography session. You know the story, right? Vogue magazine had assigned Stern to photograph Marilyn for something very new to her-- or at least something she hadnít done in over 10 years-- fashion modeling. So hereís Marilyn Monroe playing haute couture early 60s fashion model for the premiere fashion magazine of the era. This, for the most part, is not the Marilyn we are used to seeing. This is Marilyn in a hundred different hair styles, modeling the designer clothes of the day-- chic sleeveless shifts, floor-length chinchilla furs, and that paisley print Marilyn a Go-Go dress where she looks like sheís doing the Frug, (if you donít know what the Frug is, donít ask). Then thereís the scarf series, proving not only that the woman at thirty-six had nothing to worry about as well as proving gall bladder operations do leave scars. The bead series. The rolling around between the sheets series.
463 pages. 375 pages in color. Every single picture, every proof sheet-- every click of the shutter for three days of pure Marilyn Monroe. And when Stern says Complete, he does mean Complete. That means the Xíd pictures as well as the astounding as well as the so-so. Still undecided? Well then, think about what youíll be doing Christmas afternoon once the wrapping paper has been picked up and the preparations for Christmas dinner are under control and the kids are playing with their toys and you just donít think you could actually stomach yet another viewing of ìItís A Wonderful Lifeî. You could be sitting on the coach and slowly, savoringly, go over every one of those two thousand five hundred seventy-one photographs of one of the most beautiful and enchanting women ever born.