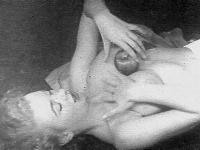 This is the myth that angers me the most. It is Marilyn's so-called Blue Movie. This movie is being sold under many different titles but was originally called "Apples, Knockers and the Coke Bottle".

However, Marilyn is NOT the actress featured. The actress in this film is named Arlene Hunter who was a 1954 playmate for Playboy magazine. In it Miss Hunter removes her clothes, rolls an apple around her breasts, and then provocatively sips from a Coke Bottle.

I can't believe that people are making money off of this stag film by ripping off unsuspecting fans. I personally don't even see how someone could mistake the two women, Arlene Hunter has a faint resemblence to Norma Jeane but is certainly no look alike. Even more absurb is the recent documentary that has been showing up on Bravo, that actually shows this footage and claims that it is indeed Marilyn!